Syenit Enita
If you think Syenit has what it takes to be a Manta Ambassador, vote now!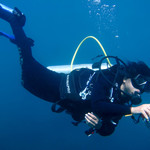 My university:
My website:
https://www.youtube.com/syenitshinoda
About me:
As an Oceanography student and member of Marine Diving Club in Diponegoro University, I learn a lot about marine megafauna conservation and documentary film, my biggest interest. Manta ray was one of marine megafauna, they are long-lived, have long reproductive rates but their populations are usually the first to be reduced by human pressure. As the Jane Goodall said, the least I can do is speak out for those who cannot speak for themselves, I will do it by learning more about manta ray in MantaWatch Internship Progam 2017, capture it and share to people as documentary film. Experienced Graphic Designer with a demonstrated history of working in the marine environmental. Skilled in Marine Conservation, Photography, Videography, Adobe Creative Suite, and CorelDraw.